Jackpot winner who went broke after winning millions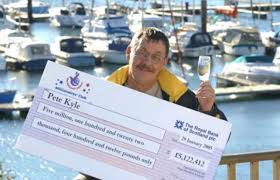 Stunned, the retired Royal Artillery gunner vowed the money was "going to change" his family's life.
And for a while, it did. He took his relatives on lavish holidays, bought cars and boats and swapped his home for a luxury five-bedroom mansion boasting a steam room, a bar and a pool.
But just three years later, Pete was reportedly broke and on benefits.
READ: SOUTH AFRICAN MAN WINS $2.8M IN LOTTO
He had squandered an eye-watering £4,600 a day, the Plymouth Herald reports.
He is said to have poured his money away on the top-of-the-range cars, his expensive house with extensions and building works, the pricey holidays, and cash handouts to his kids.
WATCH: TWO MEN TAKE ON TRAINED FIGHTER IN ROAD RAGE CONFRONTATION
By April 2008, he had lost his mansion in Derriford, Plymouth, and was living and working at the £15-a-night Rooms Hotel on the city's Union Street, according to a report in The Sun at the time.
READ: THE TRUTH ABOUT FEMALE EJACULATION
Mr Kyle, then 52, had guessed all six numbers right to win the mind-blowing jackpot of £5,122,412 in the Lotto draw back on January 29, 2005. It was one of Britain's biggest ever Lottery wins.
His numbers – 3, 8, 27, 38, 44 and 46, the same numbers he has put on every week for years – were fed into the Co-op National Lottery machine in Wolseley Road, North Prospect.