South African man wins $2.8m (R34.4m) in Lotto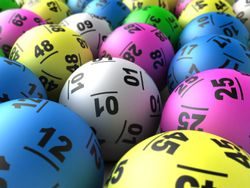 No job' in his 30s. But now a Durban man is "beyond happy" after winning a R34.4 million Lotto jackpot.
He bought his ticket at a Spar in Umlazi' where he spent R60.
The South African National Lottery said the winner plans to buy property.
READ: JACKPOT WINNER WHO WENT BROKE AFTER WINNING MILLIONS
He also intends to help his family improve their lives and will buy a house for his parents.
WATCH: TWO MEN TAKE ON TRAINED FIGHTER IN ROAD RAGE CONFRONTATION
The winner also plans to start a business' and travel.
He is promising to invest some of the huge sum.
This is the second big win from KwaZulu-Natal — Another man has won R58.7 million in the PowerBall.
He bought his ticket for only R30 and randomly selected his numbers.
READ: THE TRUTH ABOUT FEMALE EJACULATION
The man' who is in his 50s' told lottery operator Ithuba that he plans on investing most of his winnings to prepare for his retirement and will continue working.
"I have always wanted to have my own farm and spend my retirement years taking care of the land and flock'" said the winner.
WATCH: JOHANNESBURG WOMAN FIGHTS OFF GUN WIELDING ROBBERS
Ithuba said both winners received financial advice' as well as emotional counselling. "The service offered by Ithuba to its winner is to ensure that winners are able to deal with their newly found financial statuses. The service also includes advice on property and business."
Source: www.sowetan.co.za