Research reveals 3 sexual positions that can fracture your penis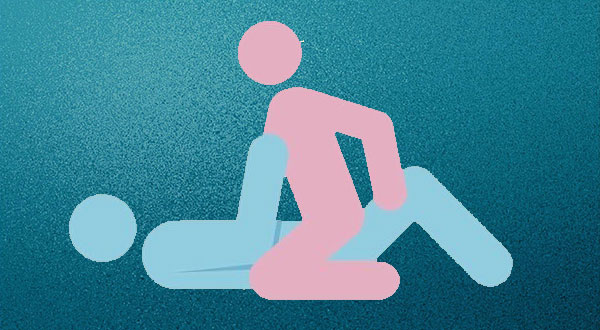 Brazilian researchers previously found the most dangerous positions for men
They noted how making love cowgirl style had the most potential harm for them
Doggy style and missionary followed suit for their instances of penile fractures
Penis fractures probably aren't the first thing that springs to your mind when you think about sex.
READ: WHY WOMEN LOSE INTEREST IN SEX AFTER JUST ONE YEAR
Instead, your thoughts are more likely to revolve around how to maximize your time spent beneath the sheets.
But a study in 2015 discovered that the risks of breaking the penis during a night of passionate love are real and not to be overlooked.
Brazilian researchers looked into the three positions the horrific injuries occurred most often in – and their results may surprise you.
Here, we look at the three most dangerous positions based on the research published in the journal Advances in Urology.
Letting your girlfriend control the thrusting by having sex in the cowgirl position is perhaps one to avoid.
Those men seeking a view of their loved one on top of them are most at risk of fracturing their penis, the study showed.
READ: THE TRUTH ABOUT FEMALE EJACULATION
Writing in the journal, the scientists found that this was responsible for around half of all the instances.
But those who prefer the position in reverse shouldn't think they escaped lightly – they are in just as much danger.
The control women have over the speed, power and angle is what makes the position the most harmful.
Coming down too hard on the penis can cause it to bend, and even break reports Sex and Relationship experts working under Dr Tito and Associates; therefore it shouldn't surprise when this position was on the list.
WATCH: TWO MEN TAKE ON TRAINED FIGHTER IN ROAD RAGE CONFRONTATION
'If things get lusty and she leans too far forward or too far back and he has a full erection, it can bend the penis into angles that it isn't supposed to go.'
Mimicking animals in how they go about their sexual exploits can also have grave consequences, according to the research.
Doggy position was responsible for 28 per cent of the fractures reported, making it the second-most dangerous position.
With only a view of your loved one's back, some raunchy men can get over-excited and become carried away in their actions.
Despite being one of the more popular positions, it can lead to the unsuspecting chap hitting her pelvic bone, causing it to potentially snap.
READ: ERECTILE DYSFUNCTION OR IMPOTENCE
I would rate this as the most dangerous of the three – especially if it's done at the end of the bed.
'All it takes if for him to thrust enthusiastically and her to shift position a little and next thing, he's fallen out and about to hit the hard end of the bed with force.
'Stop it happening to you by taking firm hold of her hips to make sure she stays in position.
'You're also safer doing this position on the floor rather than with something hard in front of you.'
Even the most boring and unexotic position could leave a man with the most horrific of penile injuries, figures show.
WATCH: JOHANNESBURG WOMAN FIGHTS OFF GUN WIELDING ROBBERS
Missionary, adopted by a mixture of both first-timers and passionate lovers, was found to be the third most harmful.
The researchers noted how 21 per cent of penile fractures occurred when the bloke was trying to climax while on top of his loved one.
In complete control of the speed and power of each thrust, this can lead to a man hitting the pelvic bone without intending to.
READ: JACKPOT WINNER WHO WENT BROKE AFTER WINNING MILLIONS
Missionary isn't a position I'd classify as remotely dangerous so am perplexed as to how it made third on the list.
'But if he accidentally pulled out and thrust hard against a hard floor, it could cause a fracture.'
Source: Internet